Traditional Thai Massage Beginner's Course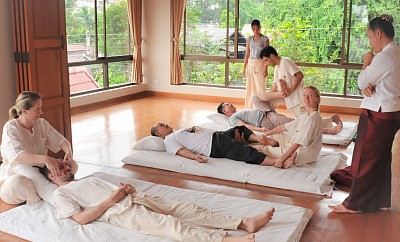 The Beginner's course
This is the foundation upon which all Thai Massage courses are based, and without a strong foundation it is difficult to progress in this healing art.
If you have no prior experience of Traditional Thai Massage 
you have found the right place to start along your path. The beginner's course is a strong and rich foundation on which further study can be built.
If you have studied Thai massage with another school or with another teacher,
You are most welcome. We recommend that you learn the approach and the techniques explained in the 10 day Sunshine beginner's curriculum before taking one our Advanced courses.

A Thai Massage beginner's course starts every Monday of every week (all year long) and runs for 2 weeks.
Classes are from Monday to Friday, from 09:00 - 12:00 noon and again from 13:00 - 16:00. There is a one-hour lunch break.
There are no scheduled classes on weekends. However, the school remains open on Saturdays for inquiries and students are welcome to come and practice.

The price for the Thai Massage class:
       Thai Baht 9,900.- (approx. EUR 284.- or US$ 317.-)
  (2 weeks / 10 days / 60 hours) 
A new beginner's course starts 

every Monday (all year long) and runs for 2 weeks.
_____ 
> 
Click here to access the detailed description of the 10 days course.
> Click here to learn more about our teachers.
> Feel free to get in touch with any question or to reserve your place in a class or workshop. 
Information and course reservation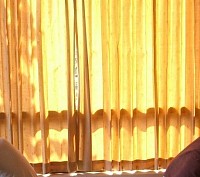 To contact us by email, please fill out the form below 
By phone: 
+66 (0)53 262 574
Office hours are from Monday to Saturday, from 08:00 to 17:00 (closed on Sunday)
Registration:
A new beginner's course starts every Monday of every week (all year long) and runs for 2 weeks.
Feel free to contact us to check the availability of your preferred course. You can do this by coming to the school, or by using the form below.

We answer all requests within 48 hours. If you don't hear from us within 48 hours your mail has probably been lost in cyberspace; please contact us again and/or check your spam mailbox.

Once your place is confirmed, 
we will hold your space for a day or two, during which time we require a deposit of 50% of the total course price. Payments can made through our secure online credit card system. 
We are happy to assist you.
If you have any questions at all, feel free to contact us via form below.

If you are in town, 
you can call us or drop by the school so we can show you around and you can get a feel of what we have to offer.


For registration or questions about courses, please send us an email: