Sunshine Thai Massage School Gallery
The school itself is a beautiful new building designed in traditional Thai architecture, specifically for the purpose of teachin

The experience of learning in such a space where the needs of the individual are catered to by a happy staff, aids the learning experience... enabling the atmosphere required for traditional Thai massage to flow. Click here for the location of Sunshine Massage School.

Our Massage Teachers and Facilitators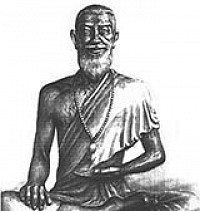 Jivaka Kumar Bhaccha Founder of Thai massage
Thai massage teachers and facilitators at Sunshine Massage School, Beginner's classes.
We are proud of our teachers and their accomplishments. 
Even though they are teachers they never stop learning and strive to gain more knowledge that they can pass on to their students. Each of our teachers is highly trained and experienced not only in the art of Traditional Thai Massage but also in the art of teaching. They know how to create a friendly and comfortable atmosphere in the class room so that students are given the best environment in which to learn and develop their own skills and practice.
Our teachers also pursue further education classes, so they bring a fresh approach to each class they teach.