Asokananda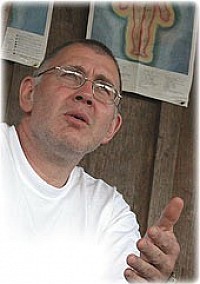 Asokananda (Harald Brust) 1955-2005
Reverence for those who have come before us
More than our teacher. More than our friend.
Asokananda died on Friday, 24th June 2005.
Deeply respected for his spiritual life, studies and teachings, we wish his light will forever stay with us. Through each massage we give, every student we teach, we will always be thankful for what he simply allowed us to discover and share, everyday.
OM MANI PADME HUM
Asokananda (Harald Brust, born in 1955 in West Germany) studied community development. From 1978 onwards he spent most of his time in Asia, where he was involved in the research into and teaching of yoga, Buddhist meditation and traditional Thai yoga massage.
His book, The Art of Traditional Thai Massage, was the first publication on that subject in any Western language.
Publications include a set of energy line charts for Thai massage therapy, and Thai Traditional Massage for Advanced Practitioners.
Sunshine Massage School gratefully follows Asokananda's spirit.
________________________
Traditional Thai Massage Beginner's Course
The Beginner's course
This is the foundation upon which all Thai Massage courses are based, and without a strong foundation it is difficult to progress in this healing art.
If you have no prior experience of Traditional Thai Massage 
You have found the right place to start along your path. The beginner's course is a strong and rich foundation on which further study can be built. 
If you have studied Thai massage with another school or with another teacher,
You are most welcome. We recommend that you take the course described this page before considering one of our Advanced courses.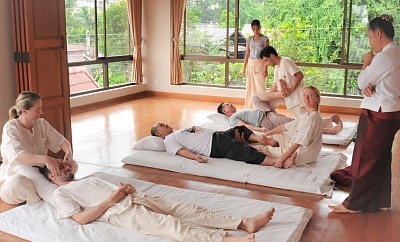 Structure of our Primary Thai Massage Training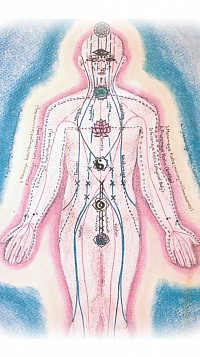 Energy Lines Chart
Daily Description of the Beginner's Course
Day 1

General background
History and theory of traditional Thai massage (Nuad Boran); foot massage and loosening exercises; application of pressure points; ankle stretches.
Day 2
Feet & single leg stretches
Application of yoga based stretches on one leg at a time; blood stops to the legs (aiding in circulation and blood cleansing); practice.
Day 3
Double leg stretches
Simultaneous stretches on both legs, and practice of what has been learned.
Day 4
Stomach, Chest and Arms
Traditional Thai techniques for these parts of the body, including points on the abdomen and chest, and a blood stop to the arms; practice.
Day 5
Side Position
Working on the 3rd outside energy line of the legs; kidney toning stretches, and two types of spinal twist; practice.
Day 6
Back of Body, lying on stomach
Traditional techniques for the back; walking on the feet; pressure points along the two main energy lines of the back; more leg stretches and cobra stretch; practice.
Day 7
Sitting Position
Traditional techniques and stretches for the shoulders and neck, and another spinal twist; practice.
Day 8
Face and head
Traditional techniques for the face, including some basic therapeutic pressure points to treat various problems; practice.
Day 9
An opportunity to practice a whole massage under supervision
Following the massage the student will receive detailed feedback from the course teacher with advice, precautions, and recommendations for future practice.
Day 10
Theory day. Review of the 10 main energy lines (sen lines)
Their names, locations, and therapeutic qualities. Comparison of Thai massage with Chinese concepts of acupressure, shiatsu, and the philosophy of the Indian prana system. A sequence of techniques and therapeutic pressure points to treat and relieve headache, knee pain, and lower back pain will be taught.