Questions about Thailand, Visa, Accommodation, ...
preview of the PDF. You can find the link to download it in the text above.
Can I travel to Thailand?
Test & Go quarantine-free entry since 1 February 2022
Thailand is open to travel, 
but there are a few conditions:
Please check
the attached PDF
 to see the official brochure on the topic. You may also want to check with your Thai Embassy if you need assistance.
Basically you will need: 
•
A proof that you have been fully vaccinated and had a RT-PCR test less than 72 hours before departure. 
•
To fill up the administrative form at 
https://tp.consular.go.th/
•
Among other things, you need a travel insurance, and a hotel reservation for 2 days, on day 1 and day 5, of your trip to receive RT-PCR tests. ( It can be 2 different hotels ) 
•
Upon arrival you will be transferred and tested at the first hotel, while you wait for the negative results. After day 5 you can travel where you want in Thailand.

It may feel like a lot, but it is also because of the seriousness with which Thailand has been applying COVID related measures that the country has relatively  less cases than most other countries.

What kind of visa do I need?
Generally speaking there are 3 main types of visa suitable to learn Thai massage are:
- Visa on Arrival
- Tourist Visa
- Education Visa
But presently the STV (Special Tourist Visa) might be the best option, especially if you are planning staying longer.
Please contact your Thai Embassy for most updated information.
How long can I stay in Thailand?
SPECIAL TOURIST VISA - STV
This type of visa is issued to applicants who wish to enter Thailand for tourism purposes. STV visa holders will initially be permitted to stay in Thailand up to 90 days including the quarantine period.
The extension of stay can be requested at the Immigration Bureau in Thailand up to 2 times at the maximum of 90 days per each extension. The maximum stay in total, therefore, shall NOT exceed 270 days including the quarantine period.
The current end date of the STV scheme is 30 September 2022.
Source: https://hague.thaiembassy.org

Can I get an Education Visa?
It is up to your Thai Embassy to decide what kind of visa they will give you. Our school is recognized by the Thai Ministry of Education and the Thai Ministry of Health and we happily issue supporting documents for your Thailand visa application. Presently, the STV (Special Tourist Visa) might be the better option.
Does the school help with a Thai visa?
Yes, we happily issue supporting documents for your Thailand visa application; your Thai Embassy will tell you what documents are required.
Is accommodation included?
Traditional Thai Massage Beginner's Course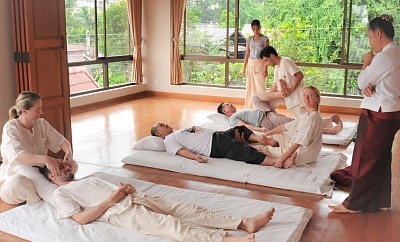 The Beginner's course
This is the foundation upon which all Thai Massage courses are based, and without a strong foundation it is difficult to progress in this healing art.
Special Times, Special offer. 
Sign up for a beginner's course and bring a friend for free.
If you have no prior experience of Traditional Thai Massage 
You have found the right place to start along your path. The beginner's course is a strong and rich foundation on which further study can be built. 
If you have studied Thai massage with another school or with another teacher,
You are most welcome. We recommend that you take the course described this page before considering one of our Advanced courses.