How we teach Traditional Thai Massage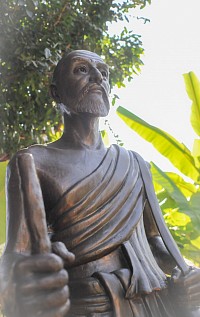 In our garden, the representation of the patron of the Thai Traditional Healing Arts
Our school is dedicated to the teaching of Thai Yoga Massage, also known as Nuad Boran, Ancient Thai Massage

Inspired by our teachers

The structure of our course is directly inspired by the approach of Asokananda (Harald Brust), created during the time he was researching Thai massage in the region of Chiang Mai.
We are still using his curriculum, which has proven very successful in getting western students to understand and practice this South East Asian healing art. Please see our dedicated page about Asokananda.

All of our teachers are also very experienced practitioners, and love to share their passion for Thai Traditional Massage. The school encourages them to keep on learning and enriching their knowledge...


About the School

• Our school has been purpose-built as a massage school. It features large clean rooms with big windows, bathed in light and with enough space for all.

•  The beginners course runs over 2 weeks, from Monday to Friday, 9:00 to 16:00 (60 hours in total). There is a 2-week course starting every Monday.

•  Lunch break is open, and you can choose from among the numerous noodle shops and local restaurants in the vicinity of the school. Vegetarian options are available almost everywhere.

• On Saturdays, the facilities are open for students who want to practice.


Unfolding of a class day

• A class does not comprise more than 10 students per teacher. This assures that everyone will receive the attention, feedback and advice needed for an optimum learning experience.

• Occasionally we have classes with more than 10 students, in which case there will be 2 fully qualified teachers in the class.

• The rhythm throughout the day is usually
  - The days starts with a bit of theory, giving some background to what you will learn,
  - Followed by a narrated demonstration of the exercise from the teacher.
  - Students then form pairs, to practice on one another.
  - The teacher is present at all times to give real time feedback.

Over the duration of the course you will have practiced with everyone in class, discovering the different body types and personalities of the recipients.

•  All our students share the same desire to learn as much as they can about this traditional healing art. Some of them are or will become professionals.

Thai Massage Certificates

•  On the last day of the 2 week course, Friday, you will be able to give a 2 hours massage applying what you have learned.
It is also at this occasion that the teacher will validate your certificate of completion.

•  This certificate is recognized by the Thai Ministry of Education and the Thai Ministry of Health, and also by the National Certification Board for Therapeutic Massage and Bodywork (NCBTMB), Natural Health Practitioners of Canada (NHPC), and Massage & Myotherapy Australia (formerly AAMT):

The certificate does not necessarily mean that you can work in your country. You should research the requirements of the country in which you wish to practice.