Advanced Thai Massage Training
For your convenience, we have created a website entirely dedicated to our Advanced Thai Massage courses.
Our advanced courses website focuses on specific aspects of Thai Massage and is designed for experienced students and practitioner.

On this dedicated website, you will find information about all of the advanced courses that are run by Sunshine Massage School covering advanced topics in Thai traditional Massage.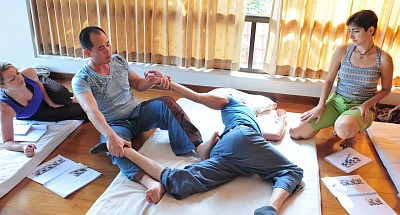 Advanced stretches class with Yan at Sunshine
Direct links to the dedicated page on the Advanced courses site.
You will find more information about each of the courses offered.
The traditional way:
Experience has shown us, and our students have told us, that one of the best ways to start advanced teaching is actually to repeat the beginner's course.